Crown Roofing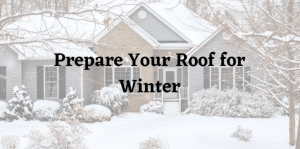 Winter roof preparation tips
Is your home ready for the winter months? Harsh winds, snowstorms, and even rains can lead to costly damage. If you want to enjoy Christmas lights, family evenings and holiday shopping instead of looking on Yelp for an available carpenter, it is high time to get your home winter ready!
Step 1. Make sure gutters are cleaned
Late autumn and early winter often bring increased rainfall, which is not only unpleasant but also quite dangerous. Clogged gutters fail to collect water and that increases the chance of a roof damage.
Step 2. Inspect the roof
Do you remember the last time you had your roof checked? If it has been done years ago, we would recommend calling a contractor. There is no doubt that snow and water will put the roof to the test. A roofer will do a full checkup in order to detect & fix leaks. Please, don't do it yourself, for this task requires special skills. However, we would like to share with you one easy way to detect a leak. Just go to an attic and use a flashlight. If there's any, you will definitely notice water stains.
Step 3. Replace broken shingles
Faulty shingles should be replaced before the winter otherwise your dry and warm home can turn into a cold and wet place. How to understand that shingles need replacement? There will be leaves, dirt, and even little twigs underneath it.
Step 4. Look around
Do you have trees near your house? If so, make sure that branches don't reach the roof. Strong winds can break them and that can cause the roof damage. Trim them in order to prevent this unpleasant situation.
That's all for now, but please stay tuned for more! We hope that these maintenance tips will help you to keep your home in the best condition. Meet the winter prepared!