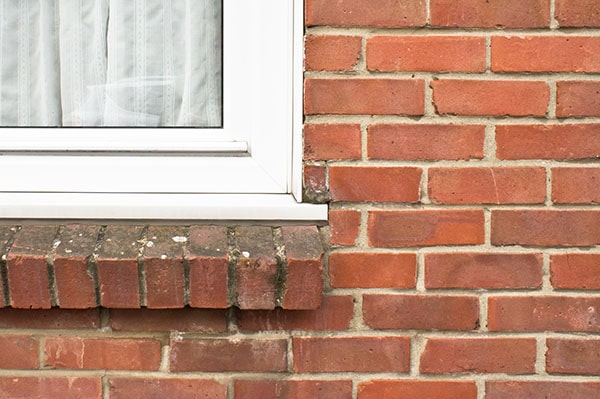 Lintels are load-bearing beams that are both functionally and aesthetically important. Either due to age, improper rustproofing or weep chord and flashing placement during installation, lintels will begin to rust, swell and deflect (become wavy), creating growing pressure within the masonry wall. Crown Roofing & Masonry can inspect your Chicagoland building for problems related to cracks or deterioration and recommend repairs.
Crown Roofing & Masonry can handle any masonry tuckpointing, repair or alteration you may need for your Chicagoland building. We guarantee the repairs will reasonably match the existing construction. Contact Us today for a free estimate with an experienced Chicagoland Masonry professional.
CHICAGOLAND METAL LINTEL REPAIRS
A lintel, or I-beam, is a piece of steel that spans an opening (such as a door or window) and supports the masonry above it. Over time as steel lintels and I-beams age, they rust, swell and deflect (become wavy) creating increasing pressure within the masonry wall. This process is known as rust-jacking. If left unchecked, deflection can crack apart mortar and move bricks out of alignment.
SIGNS OF STEEL LINTEL FAILURE
Bricks above the window or door appear to be deflected/wavy instead of laying straight and plumb.
Step-cracks in the mortar joints and bricks emanating outward from the upper corners of the windows or doors as the wall tries to accommodate the swelling steel.
Crushed bricks in the upper corners of window and door jambs where the steel inserts into the wall. Building owners may wonder why these bricks require such frequent repair when, in fact, it is the rusting steel support member that is the culprit.
Severely deteriorated, deflected or otherwise defective steel lintels should be replaced with new, properly primed and painted steel, through-wall flashing and end dams. Defective steel cannot be "repaired" with a coat of paint and be expected to perform properly. Masking a defective steel support member with a coat of paint or bead of caulk can put the public at risk of catastrophic wall failure.
CAULKING
Elastomeric Caulk/Masonry Sealants
These products, generally referred to as "caulk," provide durable and flexible weather sealing of most common construction materials including stone, concrete, brick,  aluminum, steel and EIFS.
Unlike concrete which is strong and inflexible once cured, masonry caulks are used when sustained flexibility and elasticity are required because the substrates to which they are attached expand and contract with changes in temperature and humidity, or vibrate due to excessive commercial street traffic.
At Crown Roofing & Masonry we only use commercial-grade sealants on our projects. Along with joint cleaners, primers and backer rod/bond breaker, our caulk jobs provide a durable and weathertight protection. Contact Us today for a free estimate with an experienced tuckpointing and masonry professional who can inspect your Chicagoland property.
OUR ROOFING & MASONRY CREDENTIALS
Top Roofing & Masonry Contractor 2016 by Home Advisor
Illinois State Licensed 104.017130
GAF Certified ID: 1111675
CertainTeed Certified
PM Progressive Certified
Registered and Licensed by the City of Chicago, Arlington Heights, Des Plaines, Cicero, Joliet, Bellwood and many more
CHICAGOLAND ROOFING PROFESSIONALS
GET A FREE ESTIMATE TODAY