Crown Roofing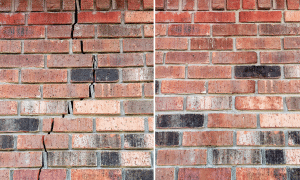 Not everyone knows that cracked mortar joints can endanger the stability of a structure. They serve two important purposes. First, they hold a wall together. Second, they prevent water from making its way into a building during rains. If water enters a brick, the surface can flake off or crackle, and – believe us – you wouldn't want to deal with it!
Tuckpointing is what you need to prevent the damage. Crown Roofing & Masonry has been repairing mortar joints in Chicagoland Area for quite some time and that experience allowed our professionals to come up with a fitting material and a proper technique to achieve high water penetration resistance. What is more, we will find a suitable mortar mix that won't interfere with your mortar color.
So, what is the main secret of ideal mortar joints? The joints' thickness is vital for maintaining the integrity of the structure. It is always defined by the type of building. However, good thickness only will do little good if you choose the wrong mortar type. There are four main kinds, thus it might take a lot of time to choose the right one.
If you don't want to waste your time on that,
contact Us
today to schedule an inspection conducted by an experienced tuckpointing and masonry professional! You can also find more info about parapet wall tuckpointing and power washing
here
.
Stay tuned for more!