Crown Roofing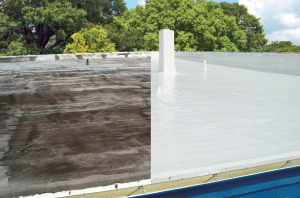 Though there are so many various roof coatings on the market right now, today we will focus on silicone! The main reason for it is that silicone has proved itself superior to other options. If you'd like to learn about it more, let's consider the main advantages of this roof coating!
The main thing every homeowner should remember about silicone roof coating is that it is always applied to an existing roof, for it is not a stand-alone system.
When will a contractor recommend you to coat your roof with silicone?
Silicone coating is used for two main purposes: roof restoration and spray foam recoat.
What roofing materials work can with the silicone coating?
The good thing is that it perfectly works with modified bitumen, metal, EPDM, TPO, PVC roofing systems.
What are main advantages of the silicone roof coating?
Lower installation cost,

about 1/2 of the cost of a traditional roof replacement

;

Reduces heat and energy bills;

Perfect in ponding water situations.
How long this coating will last?
It can last up to 15 years.
Crown Roofing & Masonry appreciates your interest in our services and products. We will inspect your roof for leaks, deteriorated areas, open seams and damaged flashing. What is more, as an authorized certified silicone roof coating installer, we provide a 10 years Manufacturer warranty. Call us today to learn more!